The Citizen | Joanne Carew:
The exhibition was held in partnership with the Wits Centre for Diversity Studies and provides a commentary on issues of gender, society and sexual identity.
Cries of "Amandla! Awethu!" echoed through the foyer of the Wits Art Museum at the opening of Zanele Muholi and Gabrielle le Roux's Queer and Trans Articulations exhibition.
"When I walked through the gallery earlier, I thought that this exhibition is a celebration of love. A celebration of freedom. A celebration of the right to live and to love who we want," said Pregs Govender, deputy chairperson of the South African Human Rights Commission, at the event.
Muholi and Le Roux's work includes photographs, portraits, video and written testimonies of the hardships experienced by lesbian, gay, bisexual, transsexual and intersex (LGBTI) South Africans, Africans and people from across the globe. It also details the extent of the hate crimes against LGBTI people in South Africa. Muholi has spent several years documenting theses crimes and footage from the funerals of LGBTI community members is also featured as part of the exhibition.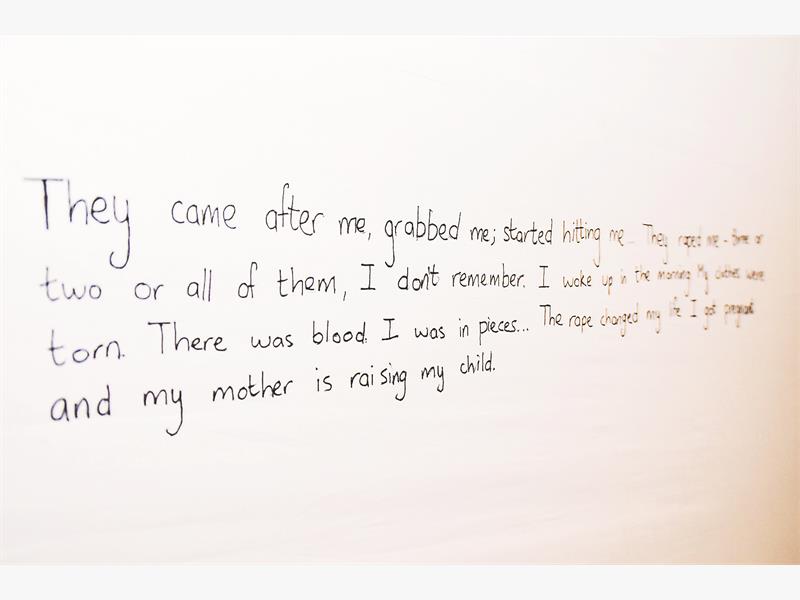 Picture: Valentina Nicol.
On the walls of one section, handwritten stories outline how members of the LGTBI community are harassed outside their homes and in bars or taxis. It features accounts of people being assaulted, raped and even killed because of their sexual identity.
"They tell me they will kill me. They will rape me and after raping me I will become a girl. I will become a straight girl," one account reads.
Muholi made headlines in 2010, after Lulu Xingwana, the Minister of Arts and Culture at the time, denounced her work, describing it as "pornographic, immoral and offensive".
"It has not been an easy journey," Muholi told the audience. "I am just a visual activist claiming my full citizenship in this country. I am using visual media to push a LGBTI agenda. This work is about all of us."
Read this and other interesting art-icles at source: http://citizen.co.za/120632/expressions-of-freedom/